Some services are not accessible on smartphone.
Home

>

J01-71794 Jura Claris Smart Filter (3 pack) 71794
Double-tap and hold to zoom.
Mouse over image to zoom.
J01-71794 Jura Claris Smart Filter (3 pack) 71794
Coffee is 98% water. So water of the highest quality is essential to creating the best possible coffee experience. The CLARIS Smart from JURA revolutionises water filtration. For the first time, thanks to modern RFID (Radio-frequency Identification) technology, a coffee machine can continually communicate with the filter. It recognises whether a filter has been inserted and automatically activates the appropriate mode. It continually collects information about filter use and alerts the user when the filter capacity has been exhausted. This not only makes changing the filter easier than ever before, but also allows the CLARIS Smart to achieve optimum effectiveness.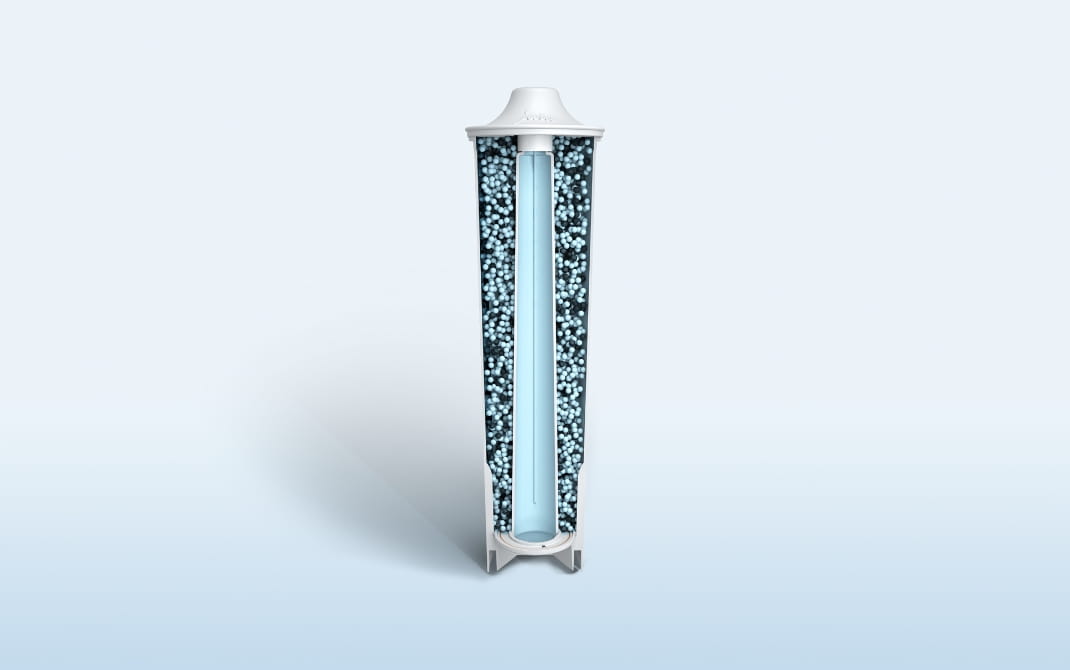 CLARIS provides the ideal water quality for the perfect speciality coffees. The capacity of the filter cartridge depends on the water hardness.
at 1-5° dH: up to 65 l
at 6-10° dH: up to 60 l
at 11-15° dH: up to 55 l
at 16-20° dH: up to 50 l
at 21-25° dH: up to 45 l
at 26-30° dH: up to 40 l
Consistently perfect coffee thanks to TÜV-certified hygiene
JURA coffee machines were certified as extremely hygienic by independent international testing organisation TÜV Rheinland in accordance with its own strict criteria. This proves that JURA maintenance products, precisely formulated to be effective with the electronically controlled programmes, guarantee TÜV-certified hygiene and cleanliness for every JURA coffee machine.
Limescale causes faults and impairs flavour
When water is heated, limescale is deposited. Pipes narrowed by limescale not only slow down the heating process and therefore consume more energy, but may even cause the machine to break down completely. Limescale also has a negative effect on the coffee itself. Although a small amount of calcium carbonate is important to the flavour of coffee, too much gives the water an unpleasant aftertaste and prevents the coffee aromas from developing as they should, partly due to fluctuating water temperatures.
CLARIS removes the need for descaling
The right water is crucial to the taste of the coffee because coffee consists in fact of 98 % water. In addition to calcium, minerals and fluorides, the tap water in many areas contains traces of lead, copper, aluminium and chlorine. Positioned directly in the water tank, the CLARIS filter freshly filters the water every time coffee is prepared. It completely absorbs harmful substances while retaining important fluorides, which help the flavours to really develop. With the optimum water quality, every cup of coffee becomes a full-bodied taste experience. CLARIS eliminates the need to descale the machine.